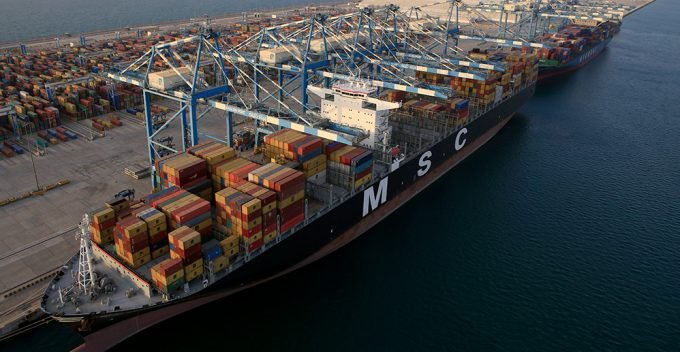 Port of Abu Dhabi
MSC and Cosco drive huge growth at Abu Dhabi container terminal
Abu Dhabi Ports (ADP) saw a massive 82% jump in the number of containers handled at its flagship Khalifa Port facility in the first half of the year.
It attributed the rise, in the main, to the concession agreement signed last year with shipping line MSC. ADP is also bullish about the outlook at Khalifa Port after its latest 35-year concession deal, inked with Cosco last year.
Container volume at Khalifa soared to 1,135,021 teu in the first six months, compared with 620,974 teu in the same period of 2018, as the world's second-biggest ocean carrier contributed its substantial global reach.
ADP said it anticipated further significant growth at the facility after the completion of its CSP Abu Dhabi Container Terminal, built in partnership with Cosco Shipping Ports (CSP).
CSP began trial operations in the second quarter, ahead of the launch of full commercial operations in Q4.
The $300m, 1.5m teu capacity facility is regarded by Cosco Shipping chairman Xu Lirong as a "pivot for us to develop a global maritime hub". When fully operational, two terminals will have an annual throughput capacity of six million teu with a target of expanding to over nine million teu by 2024.
"Our half-year figures illustrate the outstanding growth we are witnessing in our business, from containers to cruise ships," said Captain Mohamed Juma Al Shamisi, chief executive of ADP.
"With the commencement of commercial operations at CSP and the rejuvenation of the port of Fujairah, on track through our joint-venture with Fujairah Terminals, we expect our strong growth to continue."
ADP owns, manages and operates 11 ports and terminals, 10 in the UAE and one in Guinea, West Africa. Container throughput handled across all its facilities increased 10% year on year.
A liner industry source familiar with the Khalifa Port operation told The Loadstar both MSC and Cosco saw the UAE hub as a major growth area.
"MSC only puts both feet in the water when it sees big growth potential, and so it has proved. I think Cosco will also see very big gains from the joint-venture," he said.
Along with the adjacent Kizad (Khalifa Industrial Zone Abu Dhabi) logistics and industrial zone, which has so far attracted more than 500 companies, including the likes of DHL, the port is expected to contribute up to 15% of the emirate's non-oil GDP by 2030. The development is said to be the most important project in the Abu Dhabi economy.
Notwithstanding the challenging environment for trade and the logistics sectors, the chairman of Abu Dhabi Ports, HE Falah Mohammad Al Ahbabi, said industries "continued to grow from strength to strength in the UAE", adding: "Our strategy to collaborate with some of the world's top industry players is proving to be a huge success."