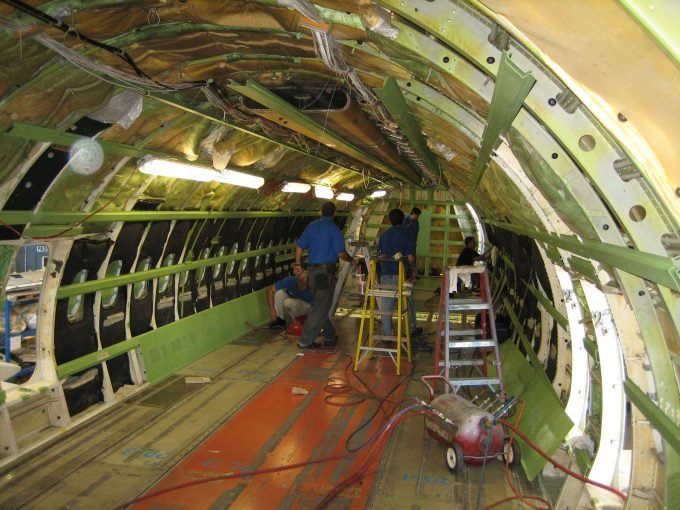 Outlook for large widebody looks chilly in a hot freighter conversion market
Conversion lines, turning passenger aircraft into cargo planes, are at full throttle – from 737s to 767-300ERs. However, the larger end of the spectrum poses a conundrum for owners, with question marks over 777 conversions and no replacement for the 747 in sight.
The clamour for freighter capacity since last spring has brought retired cargo planes out of storage and fuelled conversion activity.
According to aviation consultancy IBA, between last May and February, 61 aircraft have joined the global freighter fleet in the narrowbody segment, while the ranks of mid-sized cargo planes swelled by 80 newcomers.
Except for a few 767-300ERFs, all the newcomers in these segments were converted aircraft.
"It almost seems like the pendulum has swung back to the 1970s, a period when pretty much everything was converted freighters," said Ed Walton, managing director aircraft engineering at UPS Airlines.
He said the only production freighters currently available were the 777 and the 767, with output of the latter very limited.
Aviation Week predicts more than 1,000 freighter deliveries over the next 10 years, almost 800 of them converted passenger planes, with the share of conversions rising through the decade.
Today, conversion capacity is the main bottleneck, said Brady Templeton, MD aircraft engineering at ATSG.
"If we had more slots, they probably would have been taken now," he said, adding that his company would place at least 16 aircraft this year.
The clamour for freighter conversions has several drivers, first and foremost the shortage of lift due to the collapse of bellyhold capacity.
According to the International Air Transport Association, global lift was down 17.7%, year on year, in December, and not all demand could be met, forcing some traffic to other modes. Moreover, demand has grown, most prominently in e-commerce.
On the supply side, feedstock has flooded into the market and the number of grounded aircraft has driven residual values down. This has made significantly more 737-800s, A321s and A330s viable for conversion than expected.
The massive drop in passenger services in the wake of the pandemic has forced aircraft owners to reconsider the deployment of their assets. Jonathan McDonald, head analyst commercial and ageing aircraft at IBA, noted that some lessors of 737-800s had begun to speculatively convert them even though they hadn't lined up an airline to place them with.
IBA is particularly bullish on the 737-800, the A321 and the 767-300ER types for conversion, and sees decent potential for 737-400, 737-700, 757-200 and A330-300 conversions. Like the A321, the A330 is a recent entrant into the conversion pool, so the numbers are still quite low, but are expected to rise significantly.
Question marks hover over the A320, which has still not gone into a formal conversion programme. Based on market economics, there should be interest in this programme, but Mr McDonald said there appeared to be stronger interest in the larger A321 as a more potent candidate.
Given that many A330s and 777s (especially older 777-200s) are unlikely to return to passenger services, there should be strong interest by owners to convert some of these stranded assets into freighters. And the fact that the widebody passenger market is expected to be the last to recover, means belly capacity shortages are most pronounced on longhaul sectors.
The large widebody segment has seen 51 aircraft additions between May and February – either production 777-200s or reactivated 747s and MD-11s. There are no conversion kits for the MD-11 and virtually none left for 747-400s, so neither type will add to the pool of converted planes.
In the 777 segment, the -300ER version is in the prototype conversion stage with Israel Aerospace Industries, and is not expected to enter the market before 2024. So far, nobody has embarked on conversion programme development for the 777-200, which would offer less payload capability than the larger -300.
According to IBA estimates, converting a 777 would cost around $30m, which would translate into a total outlay of about $54.5m for a 777-300ERP2F and about $42.7m for a -200ERP2F . Factoring-in the likely age and cycle tally of a -200, owners would have to question whether it would be worth the investment, Mr McDonald said.
Before 2024, the 777-200 production freighter will be the only type to boost capacity in the large widebody segment. In addition to the dilemma whether or not to convert a -200, there is also the question of what could replace the 747 when it nears the end of its life span – there is nothing on the horizon, which is a headache, said Mr McDonald.
Reference:
Ian Putzger, A., 2021. Outlook for large widebodies looks chilly in a hot freighter conversion market - The Loadstar. [online] The Loadstar. Available at: <https://theloadstar.com/outlook-for-large-widebodies-looks-chilly-in-a-hot-freighter-conversion-market/> [Accessed 2 March 2021].